Share the Christmas Magic
In our business, Christmas is a key time. We always go above and beyond in thanking our loyal clients for trusting us with their graphic design, print, websites, digital marketing and other promotional services.
Every year we come up with increasingly creative ways to give them something memorable to show our appreciation. And we are delighted when clients take the time to comment on what they have received from us.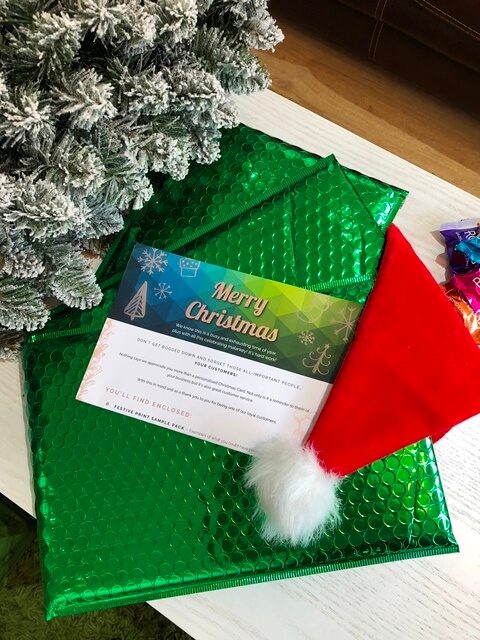 Christmas is the perfect marketing tool!
If you are looking for a great opportunity to touch base with your customers or business contacts or thank your staff, investing in branded Christmas products is a great way to get your business noticed for the right reason. Not only is it the perfect marketing tool and a great way to lift spirits over the festive period, but it is also a great way to get your business noticed and reinforce your brand.
It's amazing what people can remember from what they've read on a pen or a cup they use every day and if it's your logo they're seeing on a daily basis then what better way to raise brand awareness for your business?
It's not too late!
Ok so Christmas is only 5 weeks away, but don't worry as you haven't left it too late! We're here to make your pre-Christmas experience more pleasant, whether you are looking to thank employees or clients, or to sustain awareness of your brand or event throughout the festive month. After all, Christmas is a great time to help promote your products and services, so isn't it time to see what you can achieve. With a wealth of options available, all you need to do is get organised now and that's where we can help.
Not just cards…
As creative designers, we know that most people would rather receive a tangible Christmas card than a digital one, so this year why not personalise your corporate Christmas cards to keep your company name fresh in their minds? But if cards are not your thing, then don't despair, there are calendars (advent or full year) diaries, pens  or a whole host of festive promotional gifts to help cultivate relationships with existing customers, or perhaps even secure new ones?
And at Oxygen Graphics, because we can print on a vast range of shapes and materials, you have the freedom to think outside the box and create a point of difference for your brand. So for a cost-effective way to promote your business and make a lasting impression, isn't it about time you gave us a call?
You can share this story by using your social accounts: