Make sure your exhibition display is talk of the show
If you can sense our smiles burning through your screens, it's because the team at Oxygen Graphics are beyond excited for exhibitions to be back up and running, which means we can get once again get stuck into creating showstopping displays for the nation.
Ultimately, exhibitions are a place that allows your brand to really showcase all it has to offer in a hugely competitive environment. We all know they have the potential to have the wow factor but only if you call in the professionals, Oxygen Graphics. We make visitors stop and want to visit your brand, thanks to our breath-taking backdrops. We inject personality, character, and life into your exhibition stand, by creating bespoke accessories and tailor-made furniture that tell your story. We help connect your brand to your audience. We give visitors something to talk about and more importantly, something to remember. Better still, each of our packages is totally personal to each of our clients, which means you can enjoy an eye-catching exhibition display without the eye-watering price tag.
Want to find out more? Discover how Oxygen Graphics can help bring your exhibition displays to life.
Take Visitors On A Journey
Why settle for boring when you can use our exhibition range to create a truly unforgettable experience for attendees. Allow visitors to escape the exhibition, by bringing the outside, inside, and taking people on a journey. Believe us, this will be the most cost-effective trip around the world you'll find you've ever taken.
At Oxygen Graphics, we're always up for a challenge, so don't be scared to set the bar high. Gone are the days of settling for a bog-standard display that simply repeats your logo and lacks personality. Wave goodbye to traditional tabletop and unengaging display shells.  Instead, why not give visitors something a bit more exciting? Whether it's an idyllic beach, a cosey ski lodge, or a mesmerising mountain scene, we can help take visitors anywhere you fancy.
Don't worry if the event is taking place in a white-walled warehouse, we can build a showstopping scene from a totally blank slate. Thanks to our fabric backdrops – which come in a range of shapes and sizes – we don't even need solid walls to work with. We complete each look with perfectly matched accessories, personalised furniture, and even customised floor vinyl designs, so visitors feel totally immersed in the setting.
Remember, the setting you choose doesn't even have to be anything to do with your product. It's more about how you want visitors to feel when they're interacting with your business and the emotions they associate with your brand. This can all be reflected in the exhibition design, theme, and intricate details.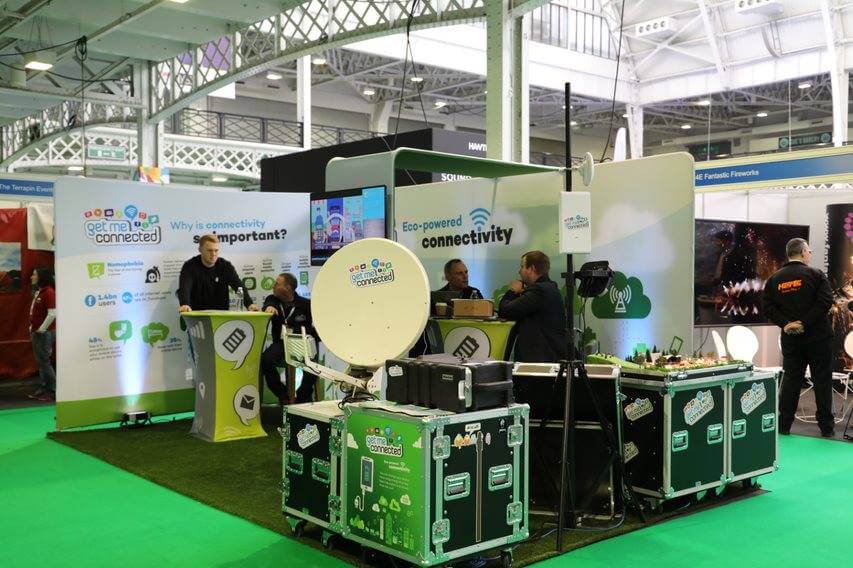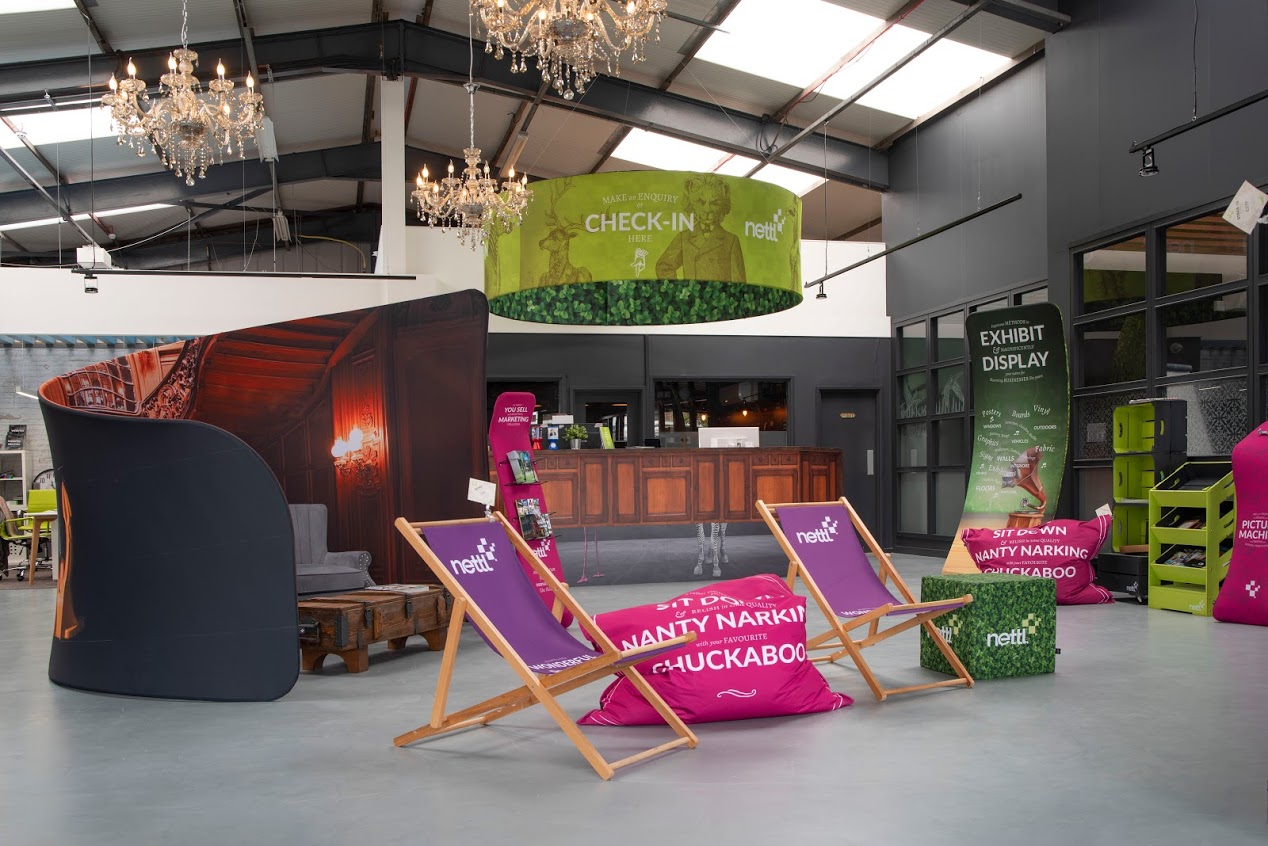 Give Visitors A Home-From-Home
If you're not feeling the whole, escape across the world vibe, then why not bring things a bit closer to home, by creating a space where visitors can relax, recharge their batteries, and re-connect with your brand.
Choose from our sensational selection of backdrops to create either an office space away from the office, a breakout area, or even a living room setting for visitors to enjoy. This is an effective way to really hold the attention of potential customers while connecting and engaging with them on another level. After all, is there ever a better time to cement those relationships with customers than while your brand and business are at the forefront of their minds?
Make Your Brand Insta-worthy
Let's be honest, attendees want 'Instagrammable' photos that they can take at the exhibition and show off across their social media. So, why not provide them with the perfect backdrop?
You might not be able to fit in an entire photo booth, so instead include branded props in your display, which visitors simply won't be able to resist posing in front of.
We're thinking customisable deck chairs, colour-bursting parasols, and irresistibly comfy beanbags. Take things up a level by including roller banners, fabric tables, or eye-catching flags, to create that picture-perfect backdrop.
Go Big, Or Go Home
Go big or go home. That's the saying, right? If this is your style, then why not explore the option of adding a fabric hanger to your display. They can be a circle, square, or triangle and suspend from the ceiling – don't worry, expo organisers will put them up for you, just ask them for a quote. Measuring up to three metres in width and totally customisable, these jaw-dropping accessories are guaranteed to demand attention at any exhibition.
Partner Up With Oxygen Graphics
With competition between brands heating up, there has never been a more important time to make sure your exhibition display is the one attendees want to visit. Get in touch with Oxygen Graphics and find out how our team of creative experts can bring your exhibition stands to life at a competitive price.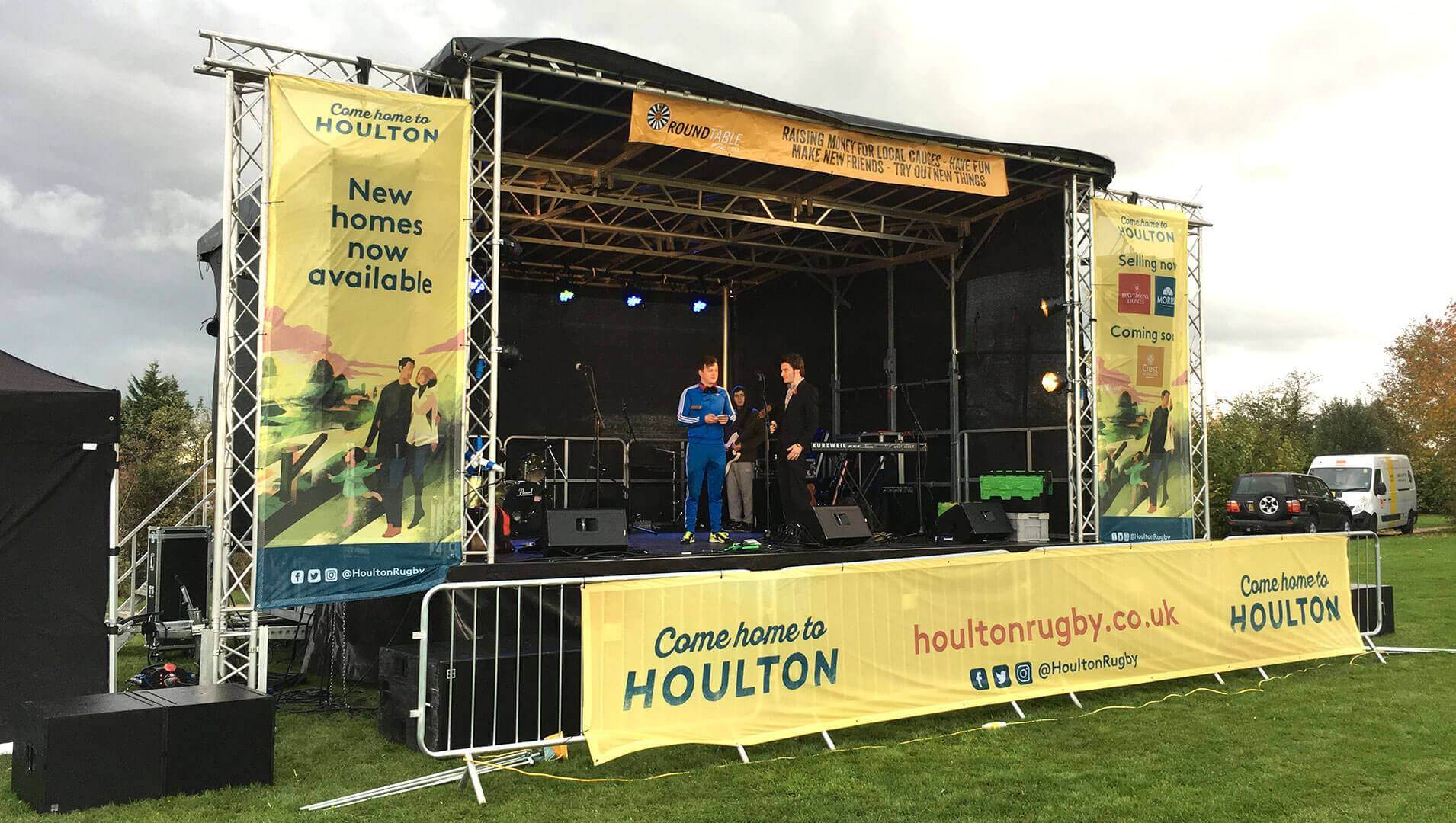 In need of marketing support?
Get in contact with a member of our team today to see how Oxygen Graphics can help you!
T : 01788 561 991    E : [email protected]