MAXIMISE YOUR WEBSITE'S POTENTIAL
Maximise your website's potential!
We design, build and launch a lot of websites and whilst we love this process, we are always keen to point out to clients at the end of the process that there is more to a website than a few online pages. Unfortunately, there's no such thing as a perfect website and your work is never really "over".  Ongoing website management, maintenance and support can empower your digital marketing to succeed and generate a positive ROI.
For your website to be successful, there are several things that you need to take control of to ensure that your digital presence works hard for you. After all when you have gone to the trouble of investing in a new site, you need to have a strategy in place so you can keep your website visible, fresh and appealing to your audience at all times.
Here are some areas that you might want to think about for your website in 2019. Needless to say, we can help you with all of the areas below!
Hosting
 Your website will be deployed into our cloud platform powered by AWS EC2. This uses the same proven infrastructure that runs famous names like Netflix, Pinterest, Expedia and Amazon. So you will get high availability, minimum downtime, excellent levels of security and scalability, all at a great price!
SEO
Help search engines and your customers to find your site, know what each page is about and understand how it may be useful to them. SEO guarantees increased exposure for your website, more traffic and higher rankings. Our affordable and flexible monthly packages can help to transform your online presence.
Google Ads
Pay to promote your business using display product listings, advertising copy, and or video content, so people notice your business whenever they're searching Google. Only pay for results, like clicks to your website or calls to your business. Try our flexible service, tailored to meet your goals with full monthly management and reporting so you can take control and make decisions on your campaign every step of the way.
Content management
Your website needs new content adding to it – blogs, articles, news, updates etc. on a regular basis and/or keeping existing content refreshed so that your target audience stay interested and fully engaged in your business. Our bespoke service will ensure that your content is consistent, up-to-date, topical, relevant and is capable of delivering what is required so your visitors keep coming back for more.
Support and maintenance
Your website needs to be regularly updated (themes and plugins) backed up and tested to make sure that you continue to enhance the user experience. Our support package will help you to proactively respond to site analytics, check performance, maximise site speed including loading times, increase efficiencies and be completely safe and secure.
Ongoing investment is essential
Your website should be at the centre of your digital marketing strategy and you need to make sure that it's continually is performing to the best of its ability and providing the results and levels of success that you need to grow your business. We love this anonymous quote which perfectly illustrates this point.
"The website you launch is often very different from the one that serves your audience the best."
For help and guidance in making your website better, get in touch now and let's make sure that when it comes to websites, you have all the help and support you need.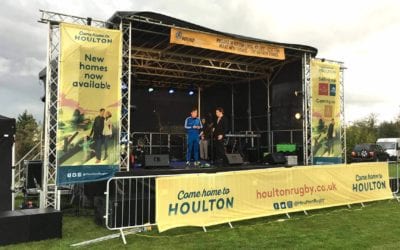 Thrive at outdoor events this summer with Oxygen Graphics With the end of lockdown firmly in sight, organisations across the country are busy coordinating their next outdoor event, which means now is the ideal time for you to brand to thrive. Whether you're leading an...
read more