Unique Ways to Attract New Business Whilst Offering Value
2020 has, undeniably, been a rollercoaster ride. We know that it's been really tough for some, but provided great new opportunities for others. Good or bad, businesses should ensure they're not neglecting their marketing efforts. The demand for your product or service may have declined (for now), but it's not going away. When your customers are in-market once more, be the business that they remember and turn to.
Here we explore marketing techniques that you can use to drive awareness and leave a lasting impression.
1. Direct or 'lumpy' mail
As the name suggests, lumpy mail is the post you receive that includes an object in it that makes it stand out from a flat letter or leaflet. From pens and USB drives to fridge magnets and sweets, businesses can personalise merchandise to their own specific branding. Direct or lumpy mail doesn't have to be about the hard sell, though. During the pandemic, why not offer discounts, goods, advice and information that will support your customers? Not only will the gesture be appreciated, but you'll also leave a lasting impression.
This is something that the team at Oxygen Graphics have done themselves, with their Care Package, in a bid to support their clients and offer a hand when it's needed the most. Included was a Business Bounce-Back Checklist, with free tips for ensuring your workplace is Covid secure, as well as advice on how to promote yourself during these challenging times. Customers also received a £25 design voucher that can be used on any print or digital design project, a pen and a notepad. Did we mention the chocolate?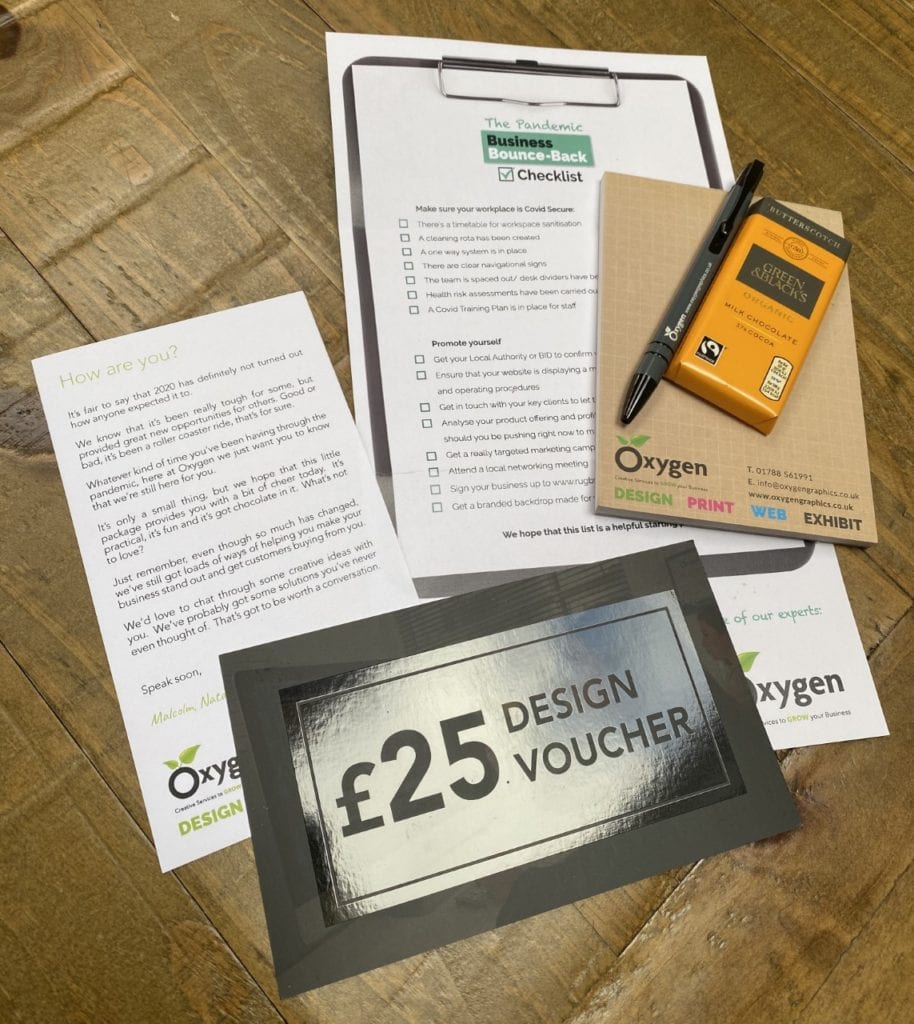 2. Free online workshop or webinars
With many businesses working from home and experiencing downtime, people have more time and educational resources are a great way to offer a new skill or advice, whilst creating brand awareness. Why not put together a free online workshop or webinar? In return, you could ask attendees for their contact details, which can be used as part of an email marketing campaign at a later date.
3. Form business partnerships
Let's face it; there's strength in numbers. Building partnerships with other businesses is a great way of expanding your client portfolio. Have a think about the type of products and companies that would complement yours and reach out to them to discuss your ideas. From sharing marketing efforts and co-authorising webinars to product integration and sharing referrals, there are many ways and benefits of forming partnerships.
To discuss your marketing strategy or, simply, bounce an idea, get in touch with the team at Oxygen Graphics. We're on hand to support businesses across Rugby, Warwickshire and beyond, tailoring unique ideas to your business and goals.
In need of marketing support?
Get in contact with a member of our team today to see how Oxygen Graphics can help you!
T : 01788 561 991    E : [email protected]